I love bringing Yoga and Travel together!  This October I am co-leading a Yoga Retreat in my favorite city: Cartagena de Indias!

INNER PEACE/Endless Summer YOGA RETREAT with Blue Sky Yoga Cartagena
When: 9-14 October 2019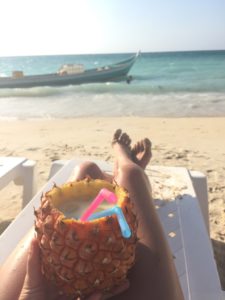 Where: The old city of Cartagena, Colombia
Who: Blue Sky Yoga Cartagena is NYC based yoga teacher/ healer Marion Mahima Jackson and long time yoga practitioner and music industry professional Adam Pollock. They offer high-end yoga retreats and private classes in Cartagena, Colombia.
What: The INNER PEACE/Endless Summer YOGA RETREAT is 6 days/5 nights of yoga immersion within the historic old town of Cartagena de Indias.  The retreat will include both gentle Yin Yoga and advanced Jivamukti style asana practice in addition to daily meditation, sound baths, and traditional Vedic Fire Ceremonies (Agni Hotra) for peace and healing.  Yoga classes incorporate ancient mantras (with harmonium) and sound baths with Tibetan Singing Bowls and bells.  Mindful silence (mauna) will be practiced each morning.  The retreat will be taught by Marion Mahima Jackson (yoga teacher, healer and co-founder of Blue Sky Yoga Cartagena) with special collaboration with Elissa Marshall, aka @gesticulate.  Accommodation is included in a fully staffed, private colonial house including a local chef preparing gourmet vegetarian meals.  The retreat will leave you renewed both in body and mind, and will provide you with the tools to elevate how you see yourself and the world around you.
Limited space available.  Learn more and secure your spot here!  Feel free to email j.elissa.marshall@gmail.com directly with any questions or inquiries about the retreat.